The First Company Licensed in Pennsylvania For the Transportation of Blood, Medical Specimens, and Related Products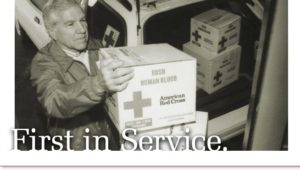 Since 1968, Carmen V. D'Ambrosio worked in healthcare for both national and international clients. In 1976, he incorporated to service a broad range of needs within the diagnostic laboratory setting.
Those services addressed areas ranging from the manufacturing of diagnostic reagents for blood bank and microbiology use, to the creation of the first courier service exclusively set up for the transport of blood and blood products.
It was 1981 when Mr. D'Ambrosio recognized an opportunity for the industry to outsource transportation requirements-and realize improved service with reduced costs. With his in-depth knowledge of the diagnostic field, Mr. D'Ambrosio submitted application to the Pennsylvania Utilities Commission (PUC) for this specialized service.
On October 30, 1981, he was awarded a license – the first in Pennsylvania, the first in the Tri-State area, and one of the first in the nation – to exclusively transport blood, medical specimens, and related products under the same standards mandated for hospitals and clinical laboratories.
With current regulation standards demanding more, Bio-Test Express has remained the preferred choice of the regions laboratory, medical professionals and hospital systems.
---
Bio-Test Express Leadership Assumed by Founder's Son, Carmen L. D'Ambrosio
Guided by the continued leadership of the company's founder Carmen V. D'Ambrosio, Sr., today Bio-Test Express is headed by Mr. D'Ambrosio's son Carmen L. D'Ambrosio, Jr.
Headquartered in Gibsonia, PA, Bio-Test Express remains a privately held, family-run Company. The Company's new President Carmen L. D'Ambrosio is a graduate of West Virginia University with degrees in Business Administration and Accounting.
Carmen Jr. brings with him more than two decades of experience working with Bio-Test Express managing all healthcare courier operations. Carmen Jr. brings with him a management approach that's personable, engaged, and admired by all employees.
The Company continues to expand and improve upon the foundation of its initial success. Now, with more than 100 employees carrying out hundreds of assignments per day, and proven protocols and policies in place, Bio-Test Express is poised to partner with Healthcare organizations of any size and scope.
---
Quality Service For Every Client is Our Mission, Regardless of Size
A Management Methodology Designed To Ensure Quality Service
No matter the size of the client, Bio-Test Express puts forth the same commitment to Total Customer Satisfaction.
The unique needs of each Client define our Management Methodology. While establishing each new working relationship, we conduct an audit to identify every department's transportation requirements and schedule, so that a baseline service level can be mapped out. This service level is optimized for efficiency; taking in all options for route consolidation, and allocating necessary staff, vehicles, and equipment.
In anticipation of the start date, we will assign a dedicated Customer Service Representative and an on-site Field Manager, who are responsible for hiring, training, scheduling, and the daily administration of duties outlined by the service agreement.
Finally, a reporting format is designed that allows us to quantify the success of all courier operations performed on behalf of the customer.
Senior Management reviews daily routing activity and charts any fluctuations in service levels. Where suggestions for change can be made without reducing quality and nature of service, a comprehensive report will be presented to the client for consideration. The report will be presented by Senior Management and will detail savings in terms of service satisfaction and real dollars.
Uncommon attention to detail. Uncompromising demand for tangible results. The principles on which we conduct daily operations… These are the cornerstone of our successful partnerships.